About
Introducing 'The Summer Of Kindness'
Did you know that being kind is good for your health? It's true. Perpetually kind people have 23% less cortisol (the stress hormone) and age more slowly than the average population. At companiions, we believe that it's cool to be kind and our companions should be rewarded for their kindness, making money while making a difference in their communities.
The UK lockdown has been tough for everyone, but now things are opening up again, compassionate Companions are in demand. That's why we are launching the Summer Of Kindness initiative, which is all about rewarding, championing and raising awareness of our amazing Companions and kindness they can provide to those who need it.
Take a look at how we are rewarding Companions throughout the Summer Of Kindness;
Earn over 30% extra on every visit until 31st August
One person taking the time to help out another can have a huge positive impact on the person who's receiving, and on the person who's giving. In turn, these simple acts of kindness can have a ripple effect, spreading togetherness and happiness throughout a community. As a thank you to our amazing king givers for all the support they provide, we are removing our commission for every successful visit conducted from 10th June 2021 - 31st August 2021, that's over 30% extra on every visit.
Top 50 Profiles Competition
On Monday 21st June, we'll be picking the best 50 completed Companion profiles. You don't need to be the most experienced or have the highest qualifications, just a full profile, great bio, key information and a commitment to helping people in your community during the Summer and beyond.
The Top 50 Profiles receive companiions merchandise to help with visits, as well as being featured across our Website and Social Media to help gain exposure for more visit bookings.
We'll also be choosing companions at random to receive a £50 Amazon Gift card.
To win, all you need to do is;
Update or complete your profile by 1pm on Sunday 20th June, including why you became a companion
Follow us on at least one companiions Social Media platform, using the links below
Make sure your availability in the App is set so that you can accept as many visits as possible through the Summer
Don't forget to signal if you've had the covid vaccine by adding the 'I've had my vaccine banner in your profile photo, much like this great profile below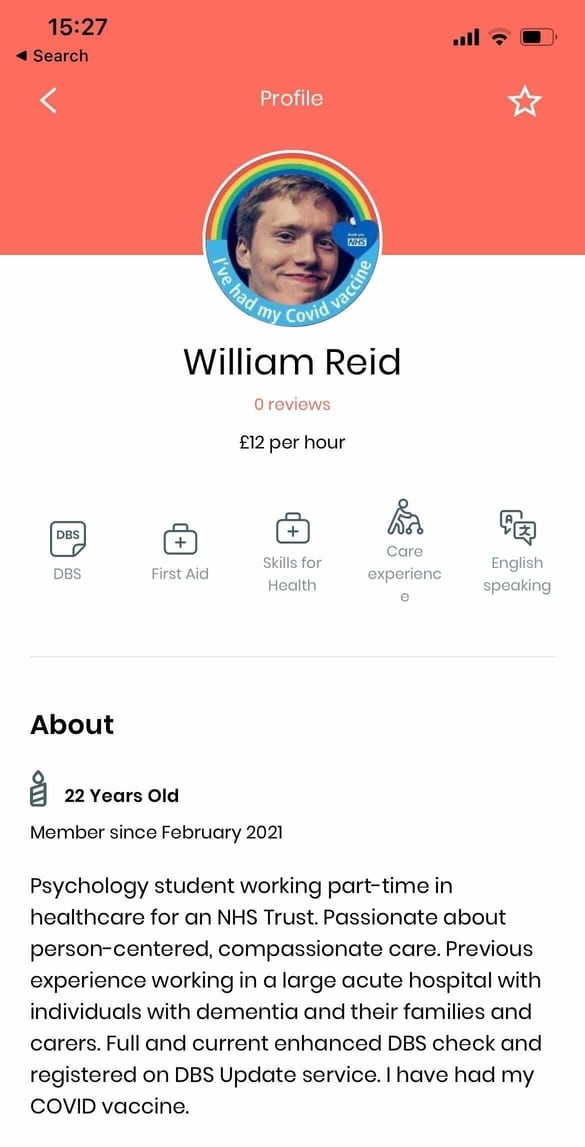 Championing Companions
As part of the Summer Of Kindness initiative, we'll be raising awareness of our Companions by championing all the great things they do and can do to support people who need help in their communities. Whether it's daily updates featuring real Companion profiles to show what they can do, or post visit testimonials and selfies, we're here to show the UK just how amazing our kind givers are. So, make sure you follow us on social media using the links below to keep up to date and send us your post visit pictures and messages so that we can champion the great work you are doing in your community.
Most Visits Competition
On August 31st the 'Summer Of Kindness will conclude with a giveaway. So, companiions will reward those who take the most visits with the following prizes;
3rd Place: A companiions goodie bag, including as our new companiions T-Shirt
2nd Place: £50 Amazon Gift Card
1st Place: A £100 Amazon Gift Card
Remember, there is still time for you to complete your App registration and profile if you haven't already done so, read our blog here or reach out to contactus@companiions.com if you need help.